13 November 2019
2020 logistics: what emerged at the last Logistics Forum?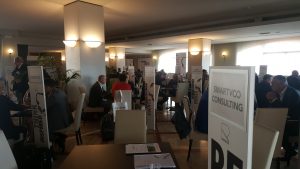 At the end of October the 2019 edition of the Logistics Forum, the traditional meeting for the supply chain professionals, was held.
How will logistics and supply chain management evolve? What are the emerging trends?
Here is a list of trends highlighted during the meetings:
The continuation of the industry 4.0 theme applied to logistics, for example with the automation that transforms the warehouse from a cost center into a profit center;
Increasing needs for visibility for stock management, monitoring of service levels and costs, with the ultimate aim of satisfying the increasingly pressing demands of a customer base every day more demanding;
An increasingly fast market, which requires solutions to optimize costs and reduce delivery times (possibly the two together);
The need for tools to support decisions (decisions that are the result of a rational procedure, as Nicola Rizzoli, the head of the Serie A referees, mentioned in the suggestive opening conference);
The ever greater awareness of risks and co-responsibility between the carrier and the company and the need to adopt procedures to contain the risk itself;
The new technologies for equipment to moving goods allow energy savings and process optimizations;
Transport sustainability for the logistics chain.
To learn more about, a free check-up is available: to request it, send an email to info@smartvco.com indicating the code L01 in the subject.